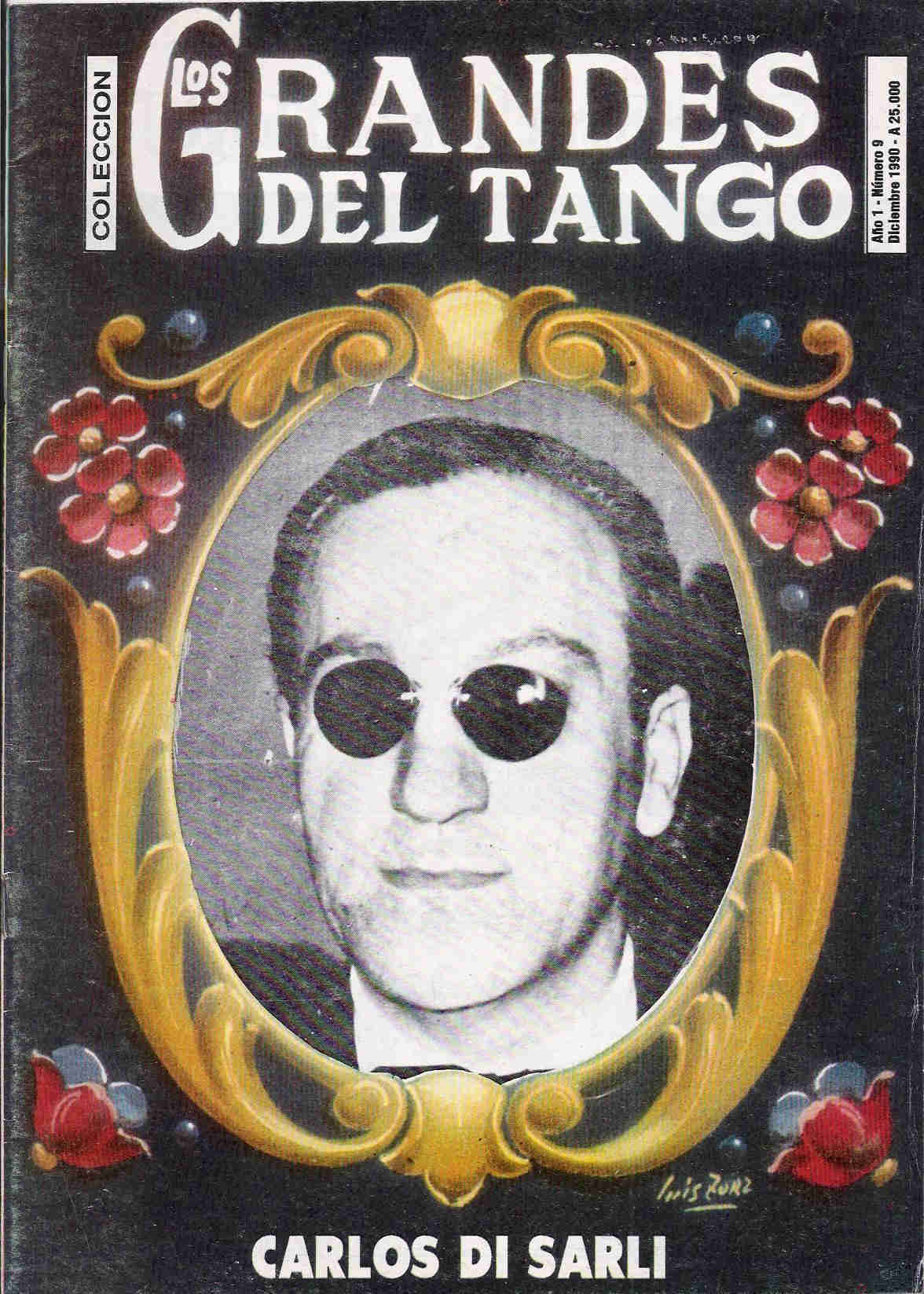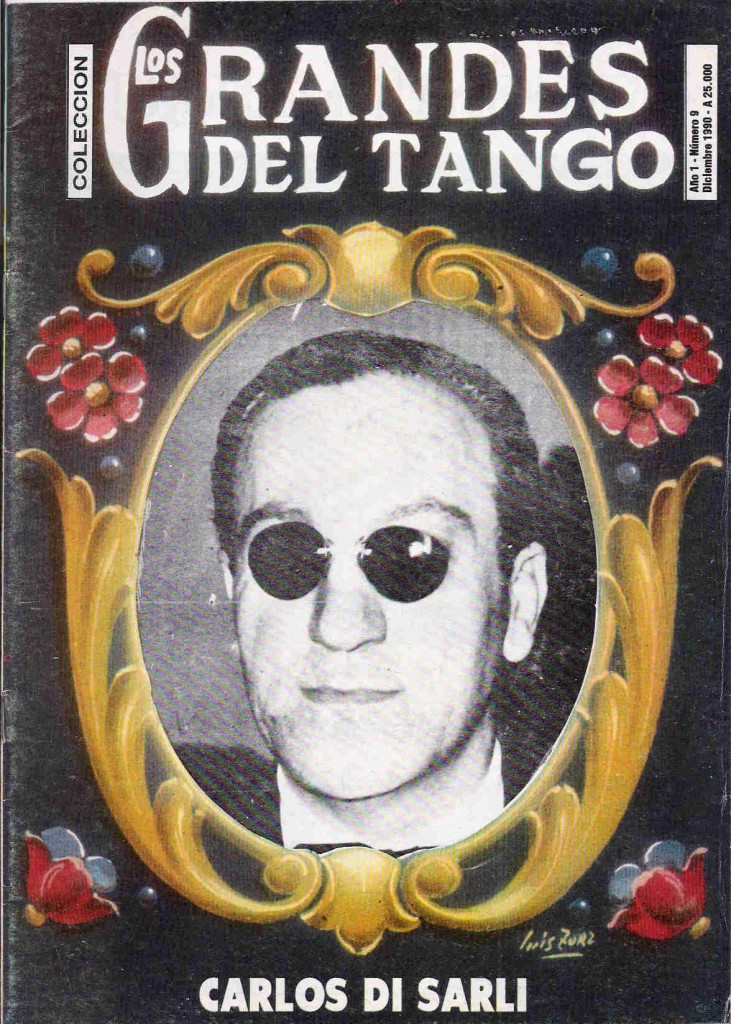 Carlos Di Sarli
Name : Di Sarli , Carlos
Nickname: El Señor del Tango
Pianist, director and composer.
( 7 January, 1903 – 12 January 1960)
Place of birth:
Bahía Blanca ( in Buenos Aires) Argentina
Carlos Di Sarli, a great among the great, one of the most beloved but little know. This biographical documentary directed by Alberto Freinquel,script and research by Dr.. Eduardo Giordalini , produced by a collaboration of public and private enterprises of the cities of Bahía Blanca and Buenos Aires.
Contains images, interviews and unpublished material owned by the family Di Sarli.
Biography:
for Ricardo García Blaya. ( gives todotango.com n.d.t. )
Carlos Di Sarli,like no other, has combined the rhythmic Cadence of the tango with a harmonic structure , simple in appearance , but full of nuances and subtleties .
It was not theinserted in none of the two currents of his time. His was not a traditional orchestra, styled after Roberto Firpo and Francisco Canaro, neither a follower of renewal of De Caro.
Di Sarli has imposed a seal right; a different musical profile , remained unchanged during his prolonged career.
In the beginning, his Sextet reveals the influence of Osvaldo Fresedo. And certain, There would have never been a Di Sarli if did not exist before a Fresedo. But only as a necessary antecedent to a style that, with time, would become a pure model with its own distinct nature.
He was a talented pianist, Perhaps one of the most important, that led his orchestra from his instrument, with whom he learned the synchrony and group performance.
In his scheme there were orchestral instrumental solos, the bandoneon section sometimes sang the melody, but had a role essentially rhythmic and danceable. Only the violin is peeling so delicate, in a short solo or in counterpoint.
The piano played in a way that suggests, with a bass line embellished, turned into a maestro mark, connecting phrases of the piece, underscoring the delicate elegant rhythm, especially for dance.
" Milonguero Viejo ( Fresedo ) " ,the tango which he dedicated to Fresedo, your contact person and friend, is the lapse that portrays her musical model.
In childhood he started studying piano, oriented towards classical music. But at the age of 13 years, causando disgusto suo maestro e suo padre, goes on tour with a zarzuela company ( folk theatrical comedy of Spanish origin. ndt ) visiting several argentine provinces, playing popular music and tangos.
Shortly after he made his debut as soloist in a biographer ( cinema ) and in a tea room in the city of Santa Rosa, province of La Pampa, managed by Mario Manara a family friend, like his father, Italian.
In 1919 formed his first orchestra to play in a tea room in his hometown, Bahía Blanca, It was the beginning of his long career.
In 1923 He arrived in Buenos Aires with his brother Roque Di Sarli, that knowledge with the Director of the police band in Buenos Aires, the musician Alberico Spatola, relative of Di Sarli family, get in touch with bandoneonist Anselmo Aieta to join his band .
Then go join the ranks of a very popular orchestra led by violinist Juan Pedro Castillo, El Rey del Pizzicato.
He was also a member of the trio Alejandro Scarpino , the acclaimed author of the tango " Canaro en París " , and participated in recordings for the Electra label accompanying the actress and singer Olinda Bozan, Sofia Bozan's cousin.
Subsequently his debuta with a sextet at the Chantecler cabaret, but it didn't last long because of a disagreement with the owner. Those were hard times, c' were many rivals and get a job was very difficult.
Through the violinist José Pécora Enter the orchestra of Osvaldo Fresedo that Opens, the teatro Fénix in Avenida Rivadavia barrio Flores.
In the late 1927 form his first Sextet with José and David Abramsky Pécora, violins; César Ginzo e Tito Landó to the bandoneon, , the string bass Adolfo Kraus. He playedì in many Cofiterias and the following year he signed his first contract with RCA-Victor, where he starts 26 nov 1928.
In many of his recordings includeof the singers Santiago Devin, Ernesto Famà , Fernando Díaz, three excellent interpreters that the accompanied, in theradio programs.
At this stage, Di Sarli records 48 tracks, starting from "TBC" , "La Guitarrita", finishing at the 14 August 1931, with "Una noche de garufa" , "Maldita" by Ernesto Famá.
In 1932 Antonio Rodríguez Lesende, becomes his first stable singer.
A few years later and for reasons not well cleari ( one of the businessmen want him to play without the dark glasses, he wear due to injury, and he refused. ndt ), comes off his orchestra to go to Rosario, city of the Santa Fe's province, where he joined a small group with the bandoneon Juan Cambareri. Meanwhile the Sextet continued to play without Di Sarli using his name. Subsequently, because of theshow inla Cofiteria Novelty, will become Orquesta Novel. In 1935 he comes invited by his friends meet the Group to replace the pianist Ricardo Canataro that was sick.
Only towards the end of 1938 He began to organize his orchestra again which will debut at Radio El Mundo in January 1939, with: piano and director Carlos Di Sarli; violins: Roberto Guisado, Angel Goicoechea and Adolfo Pérez; the bandoneon: Roberto Gianitelli, Domingo Sánchez e Roberto Mititieri; and Domingo Camacho on bass; the singer was Ignacio Murillo, replaced then gives Roberto Rufino.
The December 11 1939 back to Victor recording studios, with the tangos "Corazón", performed by Roberto Rufino and "Retirao".
It's his time of glory; the duo Di Sarli-Rufino constitutes a golden page of the tango. Amazing'the interpretation of "Tristeza marina". Later singers Carlos Acuña, for a very short time, replaced by; Alberto Podestà, Jorge Durán , Oscar Serpa.
The apotheosis of Di Sarli'swas by popular acclaim, lasted until his death. Although he was a musician dfrom the previous decade, the 40's found him at the peak of his art of leader and composer.
After the 1949 Di Sarli retired again for commercial reasons, for return only in 1951.
He has recorded for the Music Hall froml November 1951 all'April 1953 recording 84 tracks with the singers Oscar Serpa , Mario Pomar.
In June 1954 back to Victor Company, and stay until the 1958 i singers was Mario Pomar, Oscar Serpa, Argentino Ledesma, Rodolfo Galé, Roberto Florio , Jorge Durán.
His latest releases, for a total of 14, are, for the Philips label in 1958 and this time his singers were Horacio Casares and Jorge Durán.
The first tango he composed was "Meditación" in 1919, ma non the has never recorded. Dfrom his work should be placed in evidenza: "Milonguero viejo (Fresedo)", "Bahía Blanca", "Nido gaucho", "Verdemar" , "Otra Vez carnaval", real gems of the genre.
El Señor del Tango (Il Signore degli Tango) was absolutely respectful of the melody and the spirit of the composers in his repertoire, make richiva lthe arrangement with orchestral nuances and subtle details, staying away from thela falsea ,contradiction between the traditional tango and the avant-garde.
Carlos Di Sarli was the final piece ntango puzzle negli anni ' 40, that no did concessions to striking fashions, Neither rhythm extravaganzashe, ma , represents very gently, the paradigm interpretive of danceable tango.