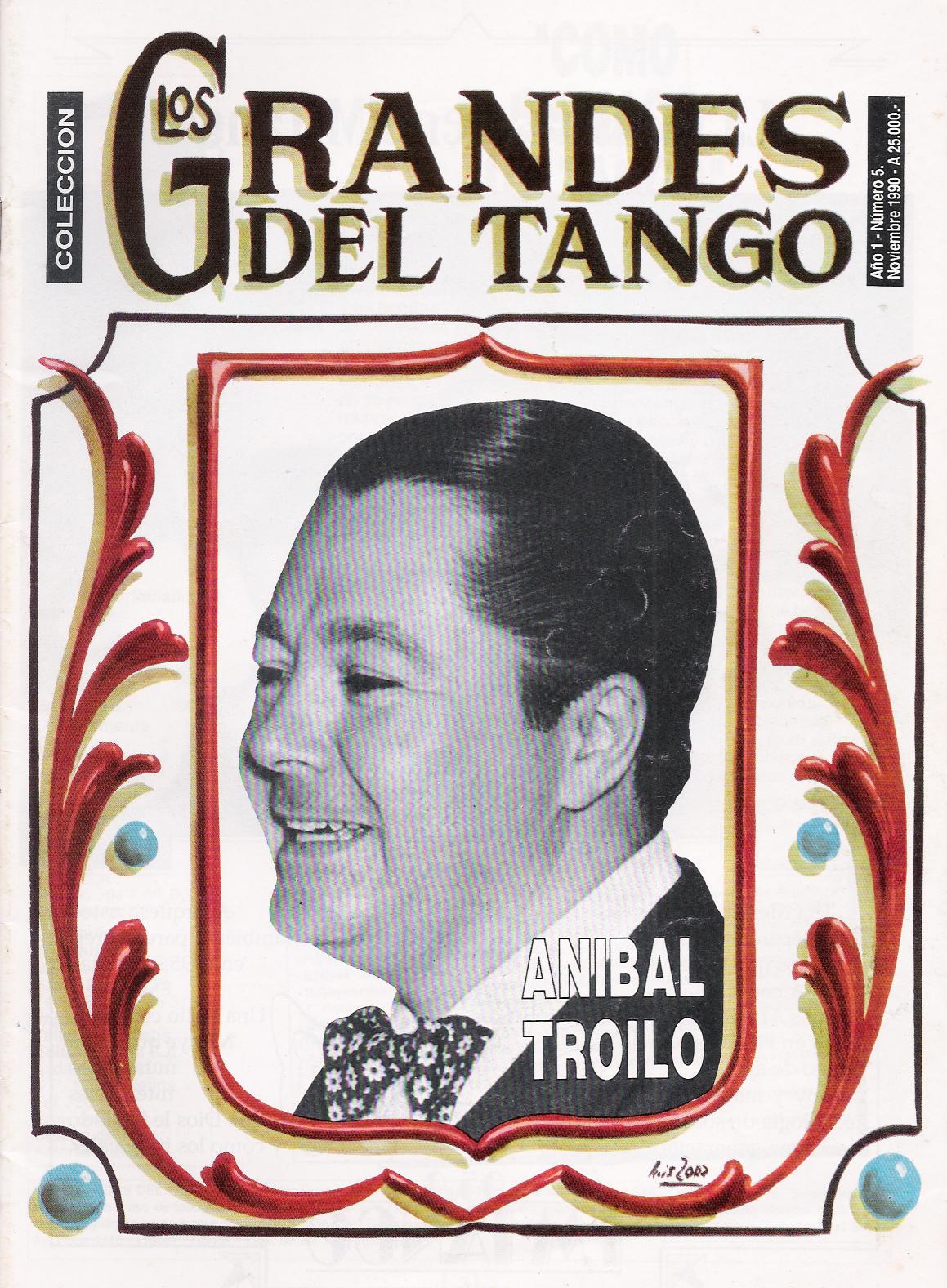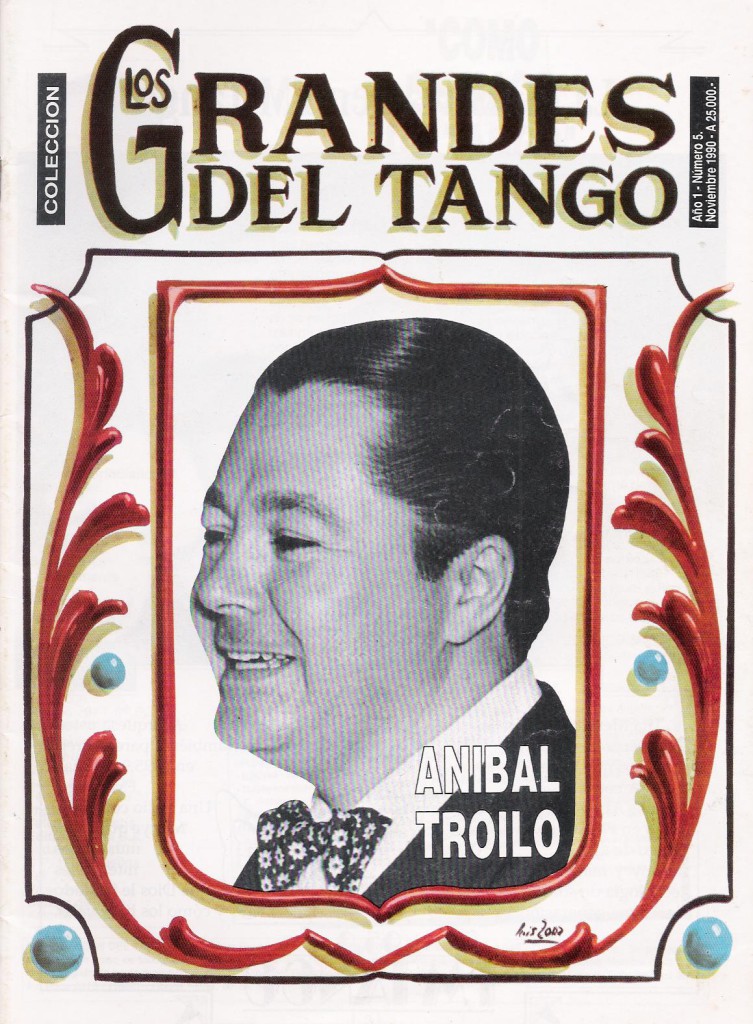 Aníbal Troilo
Name: Troilo , Anibal Carmelo
Nicknames: Pichuco
Bandoneonist, director and composer .
(11 luglio 1914-18 May 1975)
Place of birth:
Buenos Aires Argentina

The documentary by the channel Volver Tango, containing interviews and audio recordings of Pichuco's voice, Perhaps the most beloved and known director in Buenos Aires, definitely one of the greatest.
Biography for
Nestòr Pinzon ( todotango.com.ar )

It was one of those rare artists who made us wonder what is the mystery, the magic, that could produce such a relationship with him with people. As bandoneon player was not a stylist like Pedro Maffia, not a virtuosist like Carlos Marcucci, or as a creator Pedro Laurenz, ne eats a solo Ciriaco Ortiz. But there was something all and was essentially this, personality and expressiveness. As a conductor, he developed a style clearly tango, balanced, refined without effects and great taste. He surrounded himself with the best performers according to his musical idea; He chose good singers, and always he gave his best, to the point that, once away from his orchestra, for a short time we could maintain the same level of music. He knew his repertoire, without bowing to the dictates of record companies. He' It was an inspired composer, creator of themes that unforgettable, as well as its versions of the works of other, transformed into timeless classics.
They told him, that was something Pedro Maffia , but one who has most clearly influenced his way of playing , his conversation with the bandoneon , the ability to move stretching notes of his phrasing , This has been Ciriaco Ortiz . He played slightly bent forward, with eyes closed , chin hanging . At an advanced stage of his career, said : " It is said that I get excited too and I cry . Yup , it's true . But I never do for unimportant things."
The bandoneon fascinated him since he heard him play in cafés of his neighborhood . He had 10 years when persuaded his mother to buy one . For 140 pesos, payable in 14 rate ,they bought it a, ma il venditore morì dopo il primo pagamento, and nobody asked for the balance of further installments. With this instrument he played most of his life . His first contact with the public was at the age of 11 years nell'Abasto , bustling vegetable market today a shopping center. Then came an orchestra of young women , and at the age of 14 years has had the idea of ​​forming a quintet . In December 1930 he joined the renowned sextet led by the violinist Elvino Vardaro and pianist Osvaldo Pugliese , where Pichuco was shoulder to Ciriaco Ortiz . The second violin was Alfredo Gobbi , then famous conductor . This sextet is not no registration.
In 1931 Troilo made a brief appearance in the orchestra of Juan Maglio ( Pacho ) . A mid-year joins with Ortiz in' Orchestras The Provincianos , one of the many created by the label Victor, mainly for the recording in the studio. Later he joined the giant orchestra formed by the violinist Julio De Caro to participate in a contest at the Luna Park ( Boxing stadium and many other shows ) . He briefly played in orchestras Juan D'Arienzo , Angel D'Agostino , Luis Petrucelli , Orquestra Typical Victor, directed at that time by another renowned bandoneon , Federico Scorticatti .
Troilo fece part of Quartet 900 , accordionist Feliciano Brunelli, Elvino Vardaro and con il flutist Enrique Bour . Later he joined the orchestra of the pianist Juan Carlos Cobián for his great orchestra of the carnival 1937 , his last stop before creating his orchestra . The 1 July of the same year at the Marabou a sign announces : "Today debut : Anibal Troilo e la sua orchestra " . Proclaimed un'altra : " . All the Marabou / The ballroom of the highest level / where Pichuco and his orchestra / will have you dancing the best tangos "
In the same year, he met Ida Calachi girl of Greek origin used in a nightclub. He married her the following year, year when he released his first album. To label the Odeon 7 MARCH 1938 record the tangos "Comme il faut" of Eduardo Arolas, , "Tinta verde" Agustin Bardi. However, for a conflict with the company does not record no other songs, until in 1941 year as it registered again for Victor. From 4 March of the same year, with his emblematic singer, Francisco Fiorentino, popularly known as Fiore. The orchestra of Troilo records for this house until 24 June 1971, the day when the last of its records 449 versions. This includes the unforgettable hits played by Pichuco with guitarist Roberto Grela, in collaboration with Edmundo Zaldivar on bass and bass Enrique Diaz Kicho. This quartet recorded twelve songs in June 1955 – September 1956. In 1962 recorded ten songs, but this time Troilo-Grela joins Roberto Lainez Guitar and Ernesto Baez on bass and For Eugenio the string bass.
In 1968 , the form Cuarteto Aníbal Troilo and recorded for Victor 11 tanks e una milonga . He was accompanied by Ubaldo De Lio ( guitar ) , Rafael Del Bagno ( contrabass ) , Osvaldo Berlingieri ( piano ) . We need to add two duets with bandoneon Astor Piazzolla in 1970 , when they recorded "The reason ( Pobre gifts ) " Cobian says , , "Return" di Carlos Gardel . This brings to a total of 485 edited recordings , although it is assumed that there are many other.
Singers of great importance in the history of tango goes through his orchestra, come Francesco Fiorentino, Alberto Marino, Floreal Ruiz, Edmundo Rivero, Jorge Casal, Raul Beron, Roberto Rufino, Roberto Goyeneche and Angel Cardenas. His pianists systematically convertiron conductors: Orlando Goñi, José Basso, Carlos Figari, Osvaldo Manzi, Osvaldo Berlingieri e Jose Colangelo.
As a composer , Troilo has created a large number of important works . Some of his most important titles are: "Toda mi vida", "Barrio de tango", "Pa' que bailen los muchachos", "Garúa", "Maria", "Sur", "Romance de barrio", "Che bandoneón", "Discepolín", "Responso", "Patio mío", "Una canción", "La cantina", "Desencuentro" y "La última curda".
It 'was a mythical character of Buenos Aires , that , as described by the poet Adrian Desired :
"He' was a 18 May, the day when the bandoneon , fell down from the hands of Pichuco . "
The bandoneon Troilo is visible at the Museum of the Academia Nacional del Tango Tango
Avenida de Mayo 833 CABA Argentina