parted the 2019 with everything!!!!
We started from 19,30 with the kind of Soledad and Javier ($200 and it includes dance)
We follow from 21 until 02 dancing outdoors ($150 admission to the dance)
It is not suspended by rain
reservations 11 6284 4568
just 15 me from Palermo
groups: Lineas 24, 47, 80, 84, 105, 109, 110, 124, 134, 135 and 146
Train: A 300 MTS de la Estacion Villa del Parque, line San Martín
Bicycles can park at Club ( bring to tie chain )
A 100 There is a parking meter.
Founded in 1922 the artistic gymnastics and fencing Sports Club Villa del Parque has a long and important tradition in the tango that starting from the golden age of.
Here regularly for its social housed the orchestras of Osvaldo Fresedo and Anibal Trolio.
Currently hosting a summer regular milonga: La Terracita Tango managed by cherche femme celibataire canada Marcela Viegas , yeah Massimo Tessari, already organizers of ZUM and co La Veraniega.
evenings Program:
sexe gay chat 19:30 > 21:00
Classe with Soledad Chaves M and Javier Marzello.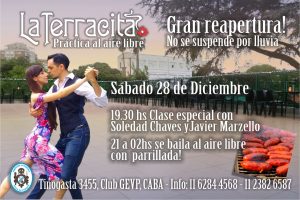 irrelevantly 21:00 > 02:00
Milonga con le tande "Hell Bien Pulenta" Dj Massimo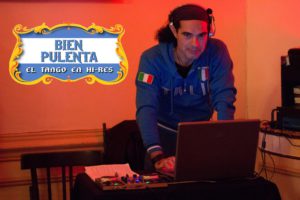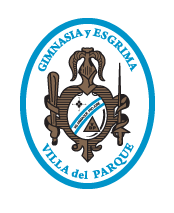 Club G.E.V.P.
Tinogasta 3455 Villa del Parque
CABA Argentina
Bookings and information :
(+54 9) 11 5824 5595 – (+54 9) 11 2382 6587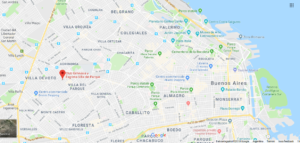 How to get:
Tinogasta 3455 – CABA – Argentina
Gimnasia y Esgrima Villa del Parque
groups: Lineas 24, 47, 80, 84, 105, 109, 110, 124, 134, 135 and 146
Train: A 300 MTS de la Estacion Villa del Parque, line San Martín
(Último tren dirección Jose C. Paz, Pilar y Dr. Cabred in las 00:02, Último tren dirección in Paternal, Chacarita, Palermo and retreat to the 00:17)