20 May : Sunday special !

From 18.00

alle

19.30 lesson in premilonga with a teacher bravissimaaa : Soledad Chaves


—-

>

vedi sotto tema e C

v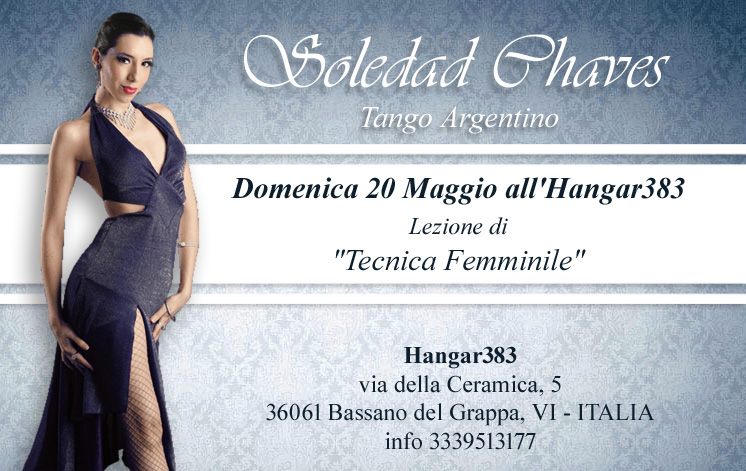 (15€ included milonga)
Dj console Up with pure vinyl tango Milonga!!!

entrance to the same 7

euri





info e prenotatiunasedia sms

3339513177 Stefano
Private acsi Faitango
We always love you ™
hangar383
via della ceramica, 5
bassano del grappa
VI – ITALY
|| \\ incredible things are happening inside \\
Ad reserved members acsi | faitango
M Soledad Chaves
Lezione di Tecnica Femminile
-Atteggiamento e interpretazione.
-Gestione dell'asse in movimento
-Proiezione e uso della gamba di base.
-Dissociation , the pivots and mechanical variables.
-Possibilità della gamba libera
-Abbellimenti funzionali al ballo e movimenti proposti.
CV
Nel Tango dal 1998. After graduating at the ACETA where he learnt with old milongueros and most prestigious dancers.
E' was Assistant to Carlos Gavito, and taught in "Escuela Argentina de Tango", "Fundación Argentine Tango" it is to "Nueva Escuela Argentina de Tango" Besides giving seminars in the most recognized Milongas as "El Beso ", "Porteño y bailarin" , "Niño Bien".
Winner of 1 second place in the Championship Hugo del Carril 2002 and of the 5 in metropolitan Championship BsAs 2007, both in the category of Tango Salon.
Joined the cast of the prestigious Tango Houses: "Cafe Tortoni" , "La Manufactura Papelera" in BsAs.
From 2005 artistic and educational activities also develops its in Europe.
In Buenos Aires is currently Professor of itinerant Milonga, La Veraniega, After Office, La Terracita e diretrice artistica della GEVP Tango Escuela.