Thursday 26 January 2017 a Santa Carmencita, returns the disk's night.

Like previous editions, Soho-Tango/Canning Novembre 2015 and La Veraniega / Club Ferro February 2016, the two collectors Pure-Milonga Dj Massimo ( LP 33 rpm ) e Juan Stefanides ( 78 rpm ) will devote themselves to make dance the milonga.
Santa Carmencita takes place in Club Malcom.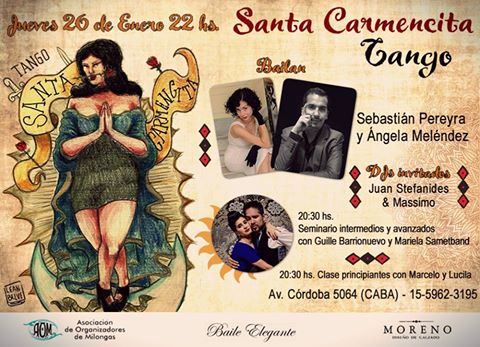 SEBASTIAN PEREYRA dance and Angela MELENDEZ Sebastian Pereyra and Melendez Angela D'Lima
20.30 hs January Seminar for intermediate and advanced with GUILLE BARRIONUEVO SMALL AND MARION Sametband Guillermo Barrionuevo Peque Mariela Sametband
20.30 hs Tango class for Beginners with Marcelo and Lucila
22 hs Start dancing!
Organizan Lucila, Mariano y Marcelo! Marian Oscar
Club Social y Deportivo VILLA MALCOLM
Av. Córdoba 5064
Cel de contacto 1159623195 The 1150270117