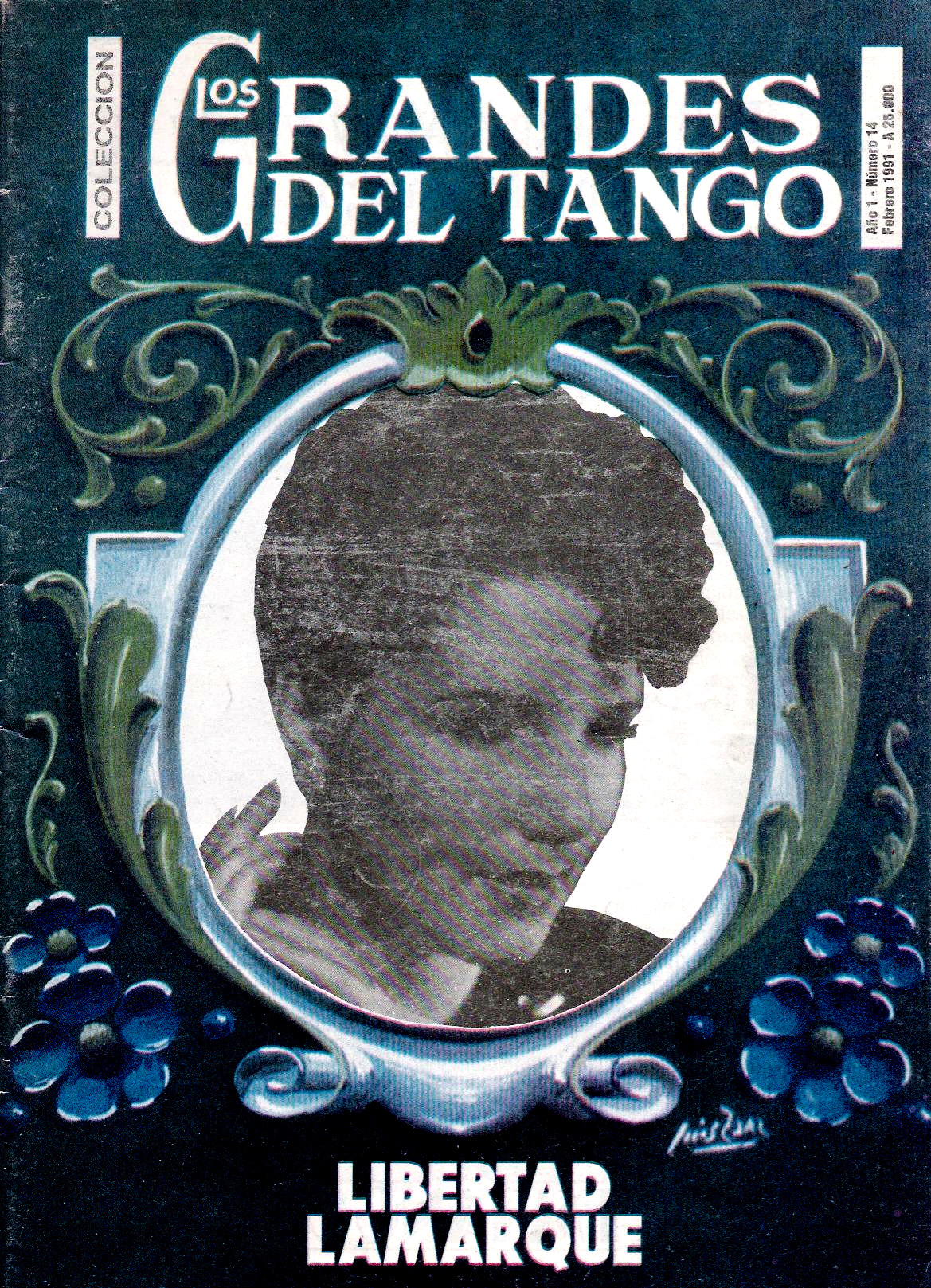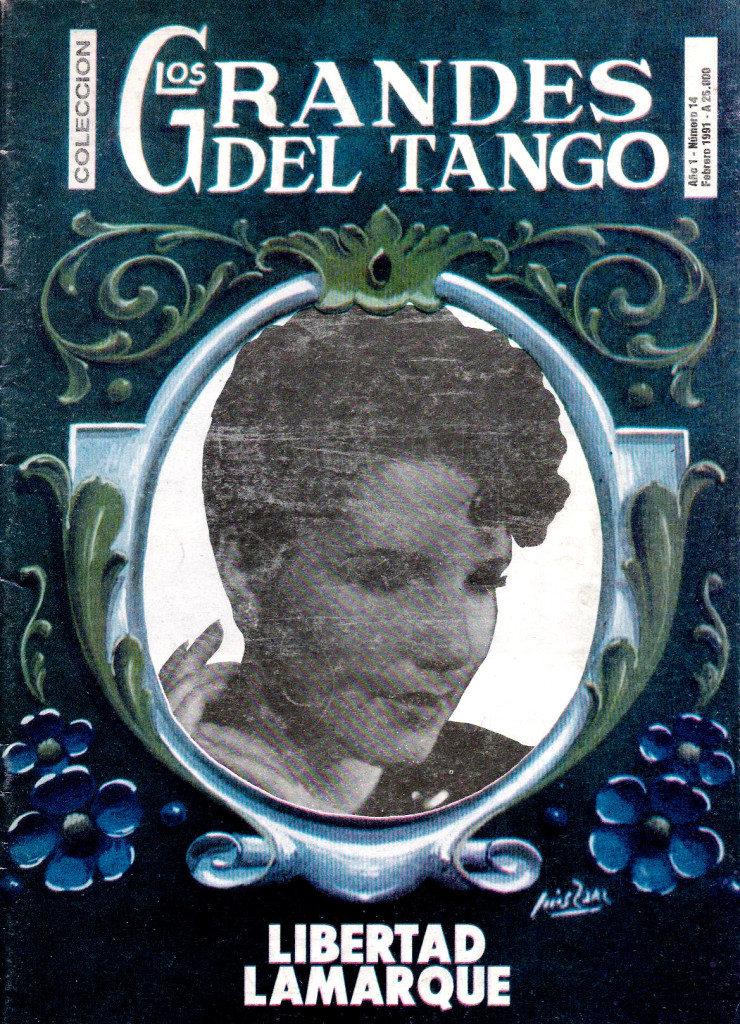 Libertad Lamarque
Real Name : Libertad Lamarque
Singer and actress.
( 24 November 1908 – 12 December 2000 )
Place of birth :Rosario ( Santa Fe ) Argentina
Documentary 1998 by Televisa S.A. de C.V. Mexico.
Idea by Miguel Sabido, produced by José Tineo Director Bruno Morales.
Biography for
Nestòr Pinzon ( todotango.com.ar )
Small in stature, but of robust physique and appealing , delicate smile and expressive eyes. Stamp of sharply , Also for the recording soprano, maybe not suitable for tango , It exceeds the apparent difficulties with the richness of her voice , strong temperament has impressed emotion permanent, to which is added a refinement perfect to accompany the melody.
In the first part of his life a series of significant events happen quickly , how to make people believe that a tragic fate pursued.
Nata a Rosario, Santa Fe il 24 November 1908 at eighteen he had worked professionally in theater , radio and recorded his first album. He was already married, with a daughter ( the only ) and it was about to leave her husband. Subsequently, today again , His life was characterized by a permanent work and an endless series of successes.

She's father Gaudencio Lamarque , son of French married a widow with six children , born of that union Libertad . At home he listened to music , read , and they circulated political ideas and artistic trends . When she was a child , with his brothers , participates in representations filodramátiche , as his father , He expressed his anarchist beliefs , through small plays that were the passion of union activists.

Libertad started to experience to be recognized and praised by the public, later in, She was awarded for her costumes used in dances of carnival, invented by her husband and perfected by his father and mother in the structures to the decoration.
He has participated in tours in the nearby towns and often sang during theater plays . The success of the port to store songs in fashion and make them part of his repertoire.
In 1926 his parents agree to send her to groped fortune in Buenos Aires. Not only accompany but trasfericono activity tinsmith. Moving house in Buenos Aires and establish sal 258 of calle Parana.
Bring a letter of introduction to a journalist from Rosario to the owner of the famous National Theatre, don Pascual Carcavallo. Already a girl, the small and beautiful figure of Libertad is accepted for the choir and a small part. Get a contract for a year 300 pesos.
Continually works, until in 1926 He debuted in a small work -sainete- integrating a vocal trio with the actresses Olinda Bozan and Antonia Volpe, accompanied by Rafael Iriarte with his guitar. The work was The Girl from Montmartre José Saldías.
His first appearance was singer "Tanita de la proa", He dressed as a sailor with the comic actress Olinda Bozan (to record some songs accompanied by Francisco Canaro). Who was surprised to hear her and proposed to appear in "El fin de fiesta" singing the tango "Mocosita" which was replaced a week later by "Tatuaje" and then to "Pato", "La Cumparsita", "Langosta", "El ciruja".
Two months later he made his debut in Radio Prieto and soon the Victor label to the contracted 150 pesos per disc, with clause to record at least one piece per month, then the increase in the contract 300 pesos. She's first album is recorded 26 September 1926, with l'style "Gaucho sole", Santiago Rocca and Atilio Supparo and the tune "Chilenito" Agustin Irusta. Recordings follow continuously, with an interval between the 1934 and the 1936.
During this time he married the theater prompter, Emilio Romero, by whom he has a daughter born in 1928. Soon he realizes the error of this union and imiega twelve years to get a divorce, therefore not legally, form a new and definitive union with the pianist Alfredo Malerba.
In 1929 operates a sainete by Alberto Vacarezza, "El conventillo de la Paloma", which it has a considerable success. Plays the part of a girl called Twelve Pesos. The conventillo (so they are called the large blocks from the numerous rooms separated by several courtyards, where people of different origin living, especially immigrants from different parts of Europe) really existed in the Buenos Aires neighborhood of Villa Crespo.
When , after two years of representations , at the thousandth presence, leaves the cast in order not to overlook his singing career. He later started a long tour of several provinces and the neighboring Republic of Paraguay . Comes with three guitarists : Gregorio Rivero , Angelo Las Heras and Nicolás Ferrari.
She's recordings are all of his records and achievements are everywhere .
Enter a contest for singers in a festival held at the Teatro Colón singing tangos " La Cumparsita " , " Taconeando " won first prize and was named the Queen of Tango . The second prize is reached Rosita Montemar ( the first to record the tango " Recuerdo " and the third place was for Fedora Cabral .
She became the first female figure of tango .

In 1933 It joins the cast of Tango, which is considered the first audio film of Argentina. Although his film debut came in 1929 in a medium-length film ever released in which she plays the tango "Caminito". Title of the film was shot in one day Goodbye Argentina, by the Italian Mario Paigamadom.
The year 1935, presents the difficult moments in the life of Libertdad. Before an alleged suicide attempt, while on tour in Chile, when fallò out the window of the hotel ma a tent stoppedò shes fall. Then her husband kidnaps the daughter escapes to the neighboring Republic of Uruguay. Freedomd, through a commandos , helpa and accompanied by friends (the new couple Alfredo Malerba, musician Héctor María Artola and others) and a lawyer, goes to Montevideo, in order to get his daughter. Manages toto obtainnthe restitution and her life resumes.
Continues shes successful career performing in important musical works, such as "Three waltz", an adaptation of Strauss's operetta (starring the singer Choly Mur, daughter of Tania, deada very young in Chile).
Also stands out in the cinema, for each film he asks the sum of 95000 pesos, digit unusual for its time. More than twenty films shot in Argentina, some titles: El alma del bandoneón, Ayúdame a vivir, Besos brujos, La ley que olvidaron, Madreselva, Puerta cerrada, Caminito de la gloria, La casa del recuerdo, Cita en la frontera, Una vez en la vida, Yo conocí a esa mujer, En el viejo Buenos Aires, Eclipse de sol, The end of the night, La cabalgata del circo and others. In "The cabalgada circus" there is a discussion between Libertad and the actress Eva Duarte, already bound to President Juan Perón, due to continuing difficulties arise in her career and decided to emigrate to Mexico.
A new stage of success awaits.
His association with this country is so intense that it has until the end of the league, and despite his advanced age it appears in soap operas and films.
Her film appearances in the second floor is the vocalist and make a dramatic actress. Her debut in Mexico occurs in 1947 directed by Luis Buñuel, Gran Casino. Working in over 40 titles, some with the most famous directors of the time: Roberto Gavaldón, Tito Davison and the indio Emilio Fernandez.
The return in Buenos Aires took place after the 1955 when power of General Peron. had decayed.
In Argentina has recorded approximately 241 tracks ( there may be other' ) . It 'was initially made by guitarists, then the orchestra's husband , Alfredo Malerba. Moreover, by Mario Maurano , Hector Stamponi, Victor Buchino, by Juan D'Arienzo for two songs , the orchestra of Lucio Milena and Tito Ribero .
In Cuba she has recorded four tracks , two in Spain in duet with Joselito . In Mexico he performed 183 Recordings , accompanied by local ensable Ruiz Armengol , Chucho Zarzosa Raul Lavista , Chucho Ferrer and others . Duets with Pedro Vargas , Miguel Aceves Mejia and once time with Mirta she's daughter .
Her 400 recordings are a number unmatched by any other songwriter Argentina and give us an idea of the importance of shes art within the world of Tango and culture.