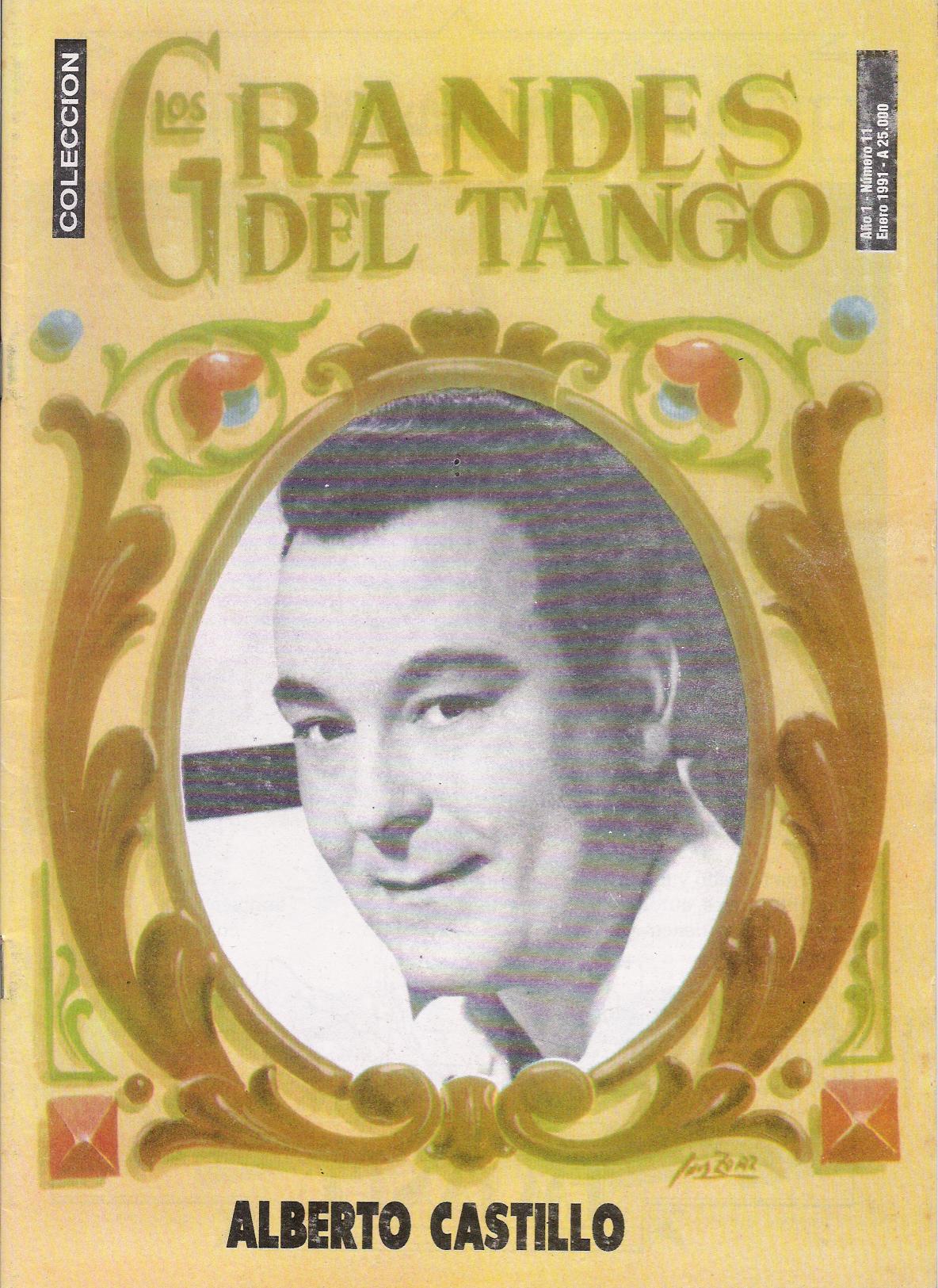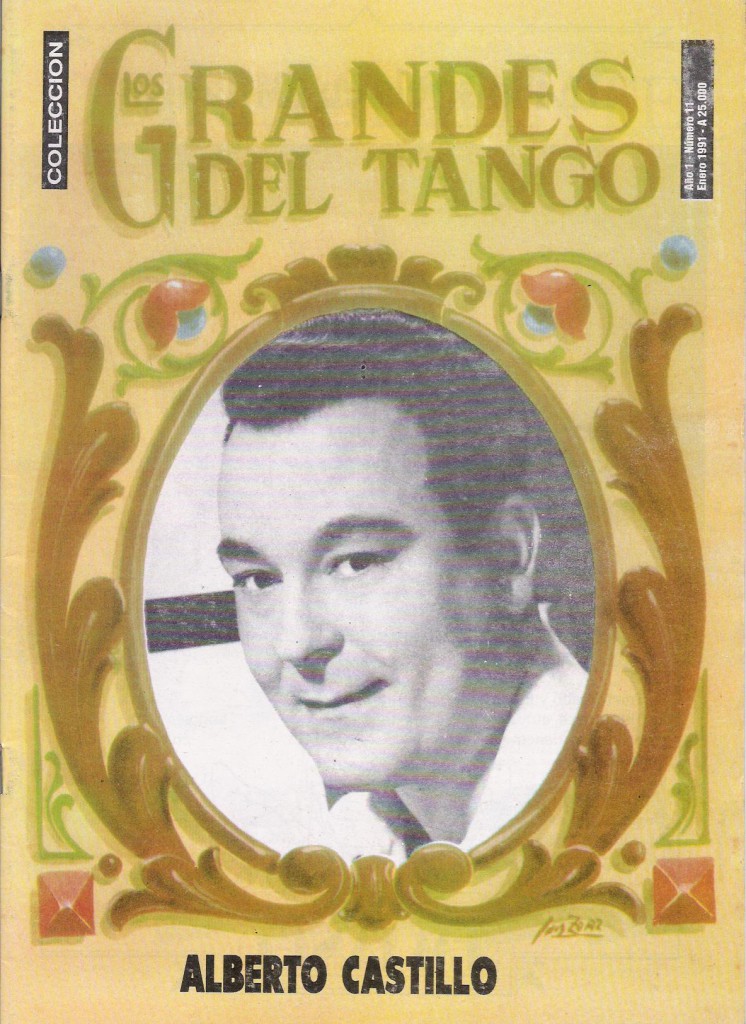 Name: De Luca, Alberto Salvador
Nickname: Riobal / The singer of the hundred neighborhoods of the city
Singer, actor, composer and author
(7 December 1914 – 23 July 2002)
Place of birth:Buenos Aires Argentina
( Between Mataderos & Floresta )
One of the greatest singers that tango had, certainly the "Character" most original that has ever been. A career that began in 1929 and successfully completed in 1993.
Doctor, Singer, Actor, Author and Composer, a Tanguero's life.
Here another documentary channel Volver Tango in this case autobiographical told by Alberto De Luca firsthand.
Biography:
Roberto Selles ( todotango.com )
The very particular style of Alberto Castillo maybe has something to do with the spirit joker and suburban Rosita Quiroga , Sofia Bozan or Tita Merello . But in no way it comes to flu ; nor of similarities between them, nor Castillo resembles them . Simply, we could group them and add to the rear Elba Berón, because united by a common reason , the same frequency.
However, when Castillo faces deep themes , Tenderness broadcasting is impressive. In short , it's about a "voice that is unlike any other voice " , as defined by the unforgettable poet Julian Centeya . His style is unlike any ; when he realized that his particular phrasing was what the dancers need, "People were moving according to the inflections of my voice " – he has declared : " Here's the tips" ( something missing , but waited hungrily ) , and he never deviated from that way of singing, style tango , to which he added a very important detail : his perfect pitch .
Alberto Salvador De Luca, this is his real name, He was born in the neighborhood of Floresta , in the western part of the city of Buenos Aires. He was the fifth child of a couple of Italian immigrants Salvador De Luca and Lucia Di Paola .
From childhood he showed a natural love of music. He took violin lessons and sang in any place where he was given the opportunity . One night , a 15 years , He was singing at the bar for group of friends whom he was the youngest and admired, when the guitarist Armando Neira came in and listening, suggested he enter his group .
This was the professional debut of Alberto De Luca , under the pseudonym of Alberto Dual , that alternated with that of Carlos Duval . He later sang with orchestras Julio De Caro ( 1934) , Augusto Berto ( 1935) , Mariano Rodi ( 1937) .
The Nicknames protected giveswith discipline of his father. When he sang on Radio Paris , with Orchestra Rodas , don Salvador, , se's dad , He said listening to the radio : "He sings very well ; It has a similar entry to that of Albertito " .
In 1938 ,left the orchestra devoted himself entirely to his medical career. But the tango was attracting and one year before graduating he joined the'Orchestra Tipica Los Indios , diretecd by the dentist/pianist Ricardo Tanturi.
In the January 8 1941 Tanturi recorded its first album with singer Alberto Castillo, adopting the nickname final proposed by Pablo Osvaldo Valle an anchorman. The valzer " Recuerdo " , by Alfredo Pelaia , becomes a best-seller . One year later, He graduated as a gynecologist and opened his own studio in his father's House .
So every afternoon, Mr Dr. Alberto Salvador De Luca left his studio to run towards the radio becoming the singer Alberto Castillo. all starts to get complicated when the waiting room of his Office can't contain women, especially young who want to be visit.
There was no explanation: ran the news that the singer incredibly sexy was gynecologist.
Find out where was his studio, rushed to get under care by him. The same Alberto tells an anecdote which the endless flow of patients in his study: "He' ready, Lady? ", a patient who was undressing behind the screen, and she said without shame: "Yes, doctor. And You?? "
"These allegations I don't liked," confessed, and later he decides to leave the profession to devote himself to singing.
The 6 JUNE 1945, He married Ophelia Oneto, and the Union was born Alberto Jorge (gynecologist and obstetrician), Viviana Ofelia (veterinary and agronomist) and Gustavo Alberto (plastic surgeon). At that time, Castillo already was an authentic popular Idol.
His way of moving on the stage, How to take the microphone and tilt it towards either side, close to the mouth as Peddler right, dropping the handkerchief from coat Pocket, unbuttoned shirt collar and tie loose. Everything was exaggerated and unusual, all caused sensation, his boxing movements, improvised when he sang "¡Qué saben los pitucos!» (of the Tango"Así se baila el tango", by Elías Randal y Marvil) and some "pituco" ( dandy ndt ) was offended.
A questo aggiungiamo la sua voce e il suo stile peculiare per spiegarci, why when, in 1944, when she sang at the Teatro Alvear, the police had to stop traffic in Avenida Corrientes, not seen since the bandoneonist Paquita Bernardo played at Café Domínguez.
It was the time of his debut as a soloist, After being divided in Tanturi 1943. Shortly after, adding to his repertoire the Candomblé, that included black dancers in his shows.
The first was "Charol" (Osvaldo Sosa Cordero), that was a success, both in Buenos Aires to Montevideo, which led him to include other songs of this beat, "Siga el baile" (Charles Warren e Edgardo Donato), "Baile de los morenos", "El cachivachero", ,, among others, "Candonga" belongs to him. Among other things, Castillo is the author of texts.
Wrote the Tangos "Yo soy de la vieja ola", "Muchachos escuchen", "Cucusita", "Así canta Buenos Aires", "Un regalo del cielo", "A Chirolita", "Dónde me quieren llevar", "Castañuelas" e "Cada día canta más"; the march "La perinola" e "Año nuevo".
The film made him a superstar , debuted in 1946 with"Adios Pampa mia" , to continue with "El tango vuelve a Paris" (1948 , accompanied by Anibal Troilo ) , Un tropezón cualquiera da en la vida (1949, con Virginia Luque), Alma de bohemio (1949), La barra de la esquina (1950), in Buenos Aires, mi tierra querida (1951), Por cuatro días locos (1953), Ritmo, amor y picardía, Music, alegría y amor, Luces de candilejas (1955, 1956 and 1958, These three with the extraordinary rumbera Amelita Vargas) , Nubes de humo (1959).
His last success was in 1993 , When registered "Siga el baile " with Los Autenticos Decadentes, He managed to win over young people at the end of the century , as he had done before with those 40 's .
His voice remains one of the most identified with the song portena and probably will forever .
( Original publication in the file 28 of our Tango collection published by people's daily ).