http://codesa.es/?raskayaniye=lugares-para-conocer-mujeres&b0e=e2 Fernando Lighezzolo on piano; Quinteiro Ezequiel Acosta percussion and Vicente Calderon low

http://norkos.it/?gosydarstvo=agenzia-matrimoniale-venus-s.n.c&272=a1 FRIDAY 13 MARCH – 21:30hs. Entrance $100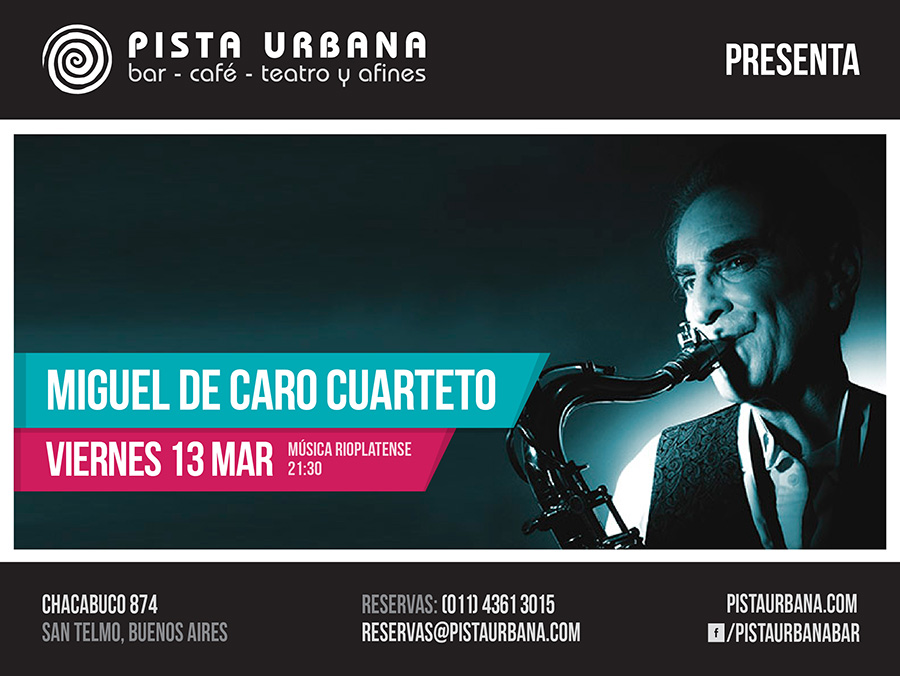 corse hebdo rencontres URBAN TRACK
conocer a gente de melide Chacabuco 874- San Telmo
Info and reservations: reservas@pistaurbana.com Tel: 4361-3015 press: Ana Garland-anagarland@gmail.com
Miguel De Caro, begins its cycle 2015 Track Urbana, with a cycle of monthly presentations to year end.
With its recent formation will continue premiering repertoire, as it did during the second half of 2014.
Shall include, besides tangos and milongas, rioplatenses other music like candombe and some folk pieces.
It will provide for public Track, a recital of the most prominent themes of his entire discography, including his latest work, "Escualo" (editado por Acqua Records).
They parade, inter alia, clásicos de Pitch, Julio De Caro and Julián Plaza, reversionados and original compositions written by De Caro , as well as songs from their upcoming production.
ABOUT MIGUEL DE CARO:
Tango Artist, Miguel De Caro is a composer, arranger and saxophonist. De Caro plays both original compositions as tangos and milongas classics of the genre. In addition to his performances at national level and their teaching, He has made several presentations in Europe, performing in venues, Jazz clubs and Milongas Switzerland and Italy, Brazil and USA.
In recent years he has participated in several official cycles of the Ministry of Culture of the City of Buenos Aires: "Tango from both sides" (Montevideo-Uruguay ); "La Gran Vía de Mayo" ; in Buenos Aires Tango Festival IX , Celebrations for the Foundation of the City of Buenos Aires . Their units in other official cycles are: VII Buenos Aires Tango Festival ; Golden Hall of the House of Culture ; Open Studio program closure Buenos Aires- Av edition. May; Notable Bars cycle 2004 and 2006,2008 and in the celebrations of the anniversary of the Reconquista Bs. As 2007; in the Golden Hall of the Teatro Colón performing works of contemporary music Maestro Eduardo Tejeda and the National University of San Luis.
He has been jury Cultural program Cafes and Bars Notables City Bs. As en 2008 and 2009 and sworn in the instrumental area awards "Hugo del Carril" also in 2008,2009, 2010, 2011, 2012 and 2013.
The record productions Miguel De Caro are:"Saxotangueando": Miguel De Caro trio ( CD 1993- Argentina Musical),"Tangofuerte": Miguel De Caro quartet ( 1998 reissue CD-2004-Argentina Musical);"Deatrasparadelante": Miguel De Caro ( CD 2004- independent publishing), "Tango Vivo": Miguel De Caro quintet ( DVD 2007-RGS Music) and "Escualo" Miguel De Caro quintet (CD 2010- Water records)
Facebook page:
http://www.facebook.com/migueldecaro
see and hear your videos:
http://www.youtube.com/watch?v=Ur_y2kRMzEQ Tango by Claude- Richard Galliano
http://www.youtube.com/watch?v=F2XQCGvZQI0 Malena
http://www.youtube.com/watch?v=WywJ0dG-tpI Adiós Nonino