In many tango, ( enthusiasts ) listen to the issuer LS1, equivalent to our Radio RAI, that in the frequency FM in Argentina 92.7 e in streaming web, has the theme channel La 2×4 exclusively dedicated to Argentine Tango.
We wondered, how it will work there or how are these "voices" that every day we tell stories of tango. It appears that the environment while being "government" ed "official" is very relaxed, professional look that goes from shirt to shirt Metallica with sandals and shorts.
Moved by curiosity, I got courage and with the help of a friend I was able to contact the person responsible for the musical, that in LS1 call "Discoteca", appeared to be Marcelo Rojas DJ Tango Argentino that often we met in our milongas in Europe.
A very pleasant and interesting meeting where we exchanged various impressions of how it is different from the activity of DJ milonga here in Argentina, where cultural awareness is very different from the tango to Europe or the rest of the world. He explained to me how complicated its activities musicalizador responsible for carrying out the programming of all the ladders of various musical programs that need to go on the air in the week 24 hours 24 uninterruptedly.
In about four hours of friendly chatter has gone from how different the sound quality between a vinyl record to an mp3, how to make a good file to extract audio from media "ancient", but also music and not Italian. Where it's going the modern tango, current.
The Discoteca is one continuous parade of sound engineers and conductors. The rumor has joined also the sympathetic conductor Charly Casares, who invited me to visit his transmission: Night with friends.
Between an interview, one GOOOL, the tandas programmed by Marcelo, Charly accompanies the night Portena, the "cursed" he shot me unxepected on-air, because was intrigued by what I said at the disco previously, about Mangia Dischi.

Afterwards by accident, during a concert in San Telmo of modern tango, I make an unexpected encounter with the "mythical" conductor LOCO POR EL TANGO transmission for collectors and enthusiasts, they pass historical recordings and audio testimonies of the great protaognisti Tango: Daniel Tano Pedercini inviting me the day after the submission to House of Writers, a book by an important collector.
Appeared to be the presentation of a book written by the founder of the website Todotango.com.ar it all goes to finish with a beer and grilled at the table of one of the many meat restaurants in the city.
Talking into the night of stereo equipment, meetings with the protagonists of the tango, anecdotes, crazy collectors and audio interview to the undersigned.
That is found so to go again in a wave of the most prestigious broadcasts of the Tango: LOCO POR EL TANGO, Apparently a nemesis.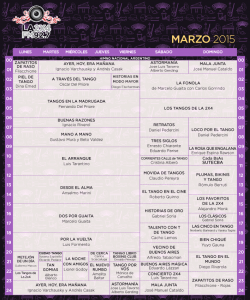 Only Buenos Aires can give concatenations of similar events.